This was a delightful smaller scale kit I built because of a very stunning 2008 livery used by the Navy's VA-192, the "Golden Dragons." The dragon motif is obviously taken from Far East mythology, but one has to admit it looks great on an aircraft. The American flag on the rear air brake was also a selling point for me.

Hate to say this, but Hasegawa used to be the benchmark for 1/72 scale F-18 Hornet kits, but that firm let competitors, such as Academy, make mold improvements that not only facilitate assembly of the kit parts, but there's also a level of detail that has been added. As for the decals, I can't say enough about Academy's decision to employ Cartograf for the making of their decals: they're colorful, crisp, and thin enough to mostly conform to curved surfaces, plus they stand up to MicroSet and MicroSol. I see that Hasegawa has begun to use Cartograf for some of their higher end kits.

I used the same construction techniques that have proven successful, but in this case, I employed a technique that facilitated virtual flush fit between front fuselage and rear sections. The kits that show two major sections constructed (front, with cockpit; rear with engines, wings and empennage) don't appreciate how trying it is to get a flush fit between the two halves when mating. Noticing that the front (fuselage and cockpit) section always was a bit smaller in diameter than the rear (engine, wing, and empennage) section. So I purposely left the aft (back) end of the fuselage section unglued until I cemented the front and rear halves together, ensuring flush fit with each side: I glued one side first, then let it set; I separated the front halves until flush fit with the other side, then stuck a toothpick cut to length and press fitted it inside the fuselage cavity, ensuring no closure of the front halves, then finally gluing the second half of the fuselage section to the rear section. There was the small but noticeable gap in the fuselage halves at the back end where it mated with the rear section, but I used a combination of thin styrene stock filler and putty to remedy the issue. It really eased many arm strokes of blending in the two dissimilar diameters with small files and copious amounts of varying grit sandpaper, which was my archaic remedy previously.

I also resigned myself to buying and painting after market cockpit seats. I used a Quickboost Martin-Baker ejection seat for this build. I pitched the horizontal stabilators upward to represent a recently landed aircraft. I also sawed the rudders to remove and put them at a slight pitch toward one side. For small scale aircraft models, I found the cockpit console decals have enough detail: it seems a waste of money to willy-nilly replace kit parts just because after market parts are available, especially with small scale models; I found the sacrifice in that small level of detail acceptable from a visual perspective.

I used my trusty Model Master enamel paints, but not before I used Ammo/Mig black enamel wash for the first time. I rather like it: I don't have to thin concentrated flat black paint, and it's much less messy to use, with clean up going quicker, too. There's also more consistency about its coverage: too often my thinned black paint had to be stirred to ensure the black pigment got uniformly on my brush. Ammo/Mig also has brown wash; some prefer that color instead of black, but to me it's a toss up.

I went bare bones with external stores. Since this was a CAG aircraft, not much ordnance was loaded onto it, and the Sidewinders I applied were more for show than for practice attack runs. It seems as if Hornets were so short legged as for range that they always carried extra ferry tanks.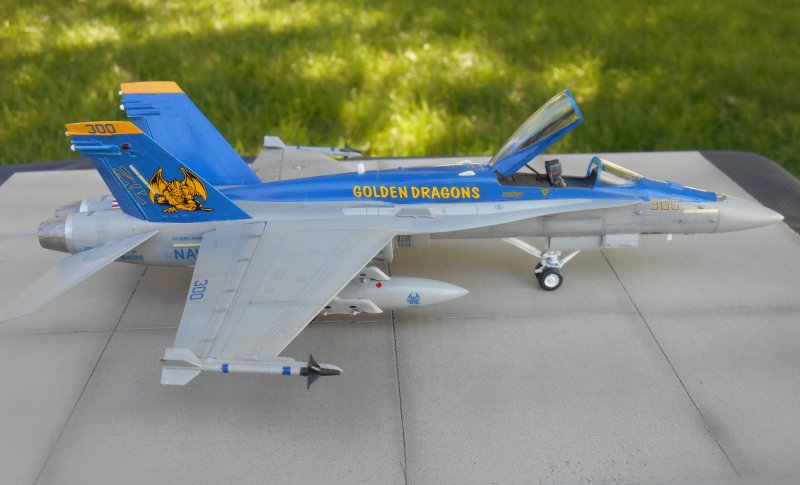 Finally, I went a bit heavy on the exhaust and fuel dump stains on the rear underside. In this area I went over the area with a black colored fine mist of the airbrush; then – without cleaning the cup – I added brown color. That allowed enough mixing of the two colors, with black seemingly being the predominant color, from what my eyes have seen on photos of the rear underside. Between black wash and adding a bit of black pastel, that was all the weathering I felt was suitable for a CAG aircraft intended mainly for show.
Carl Jarosz