Sukhoi's Su-15 remained in service from 1965 till the 90's, and to me epitomises the Soviet Cold War interceptor. It gained infamy as the aircraft that shot down the KAL Boeing 747, killing all on board.

Trumpeter has released various Su-15 kits in different scales and versions; this is the Su-15TM in 1:72 scale. The TM was a later variant, and even in 72 scale, the kit is fairly large.

It's a typical Trumpeter offering, good detail, generally good fit, many inaccuracies, average decals. The cockpit is okay for a 72 scale kit, but the instrument panel is a complete blank - no details, just a flat plate, and no decal either. The nose is oversized, but I chose to go ahead with it anyway. In India, there are no hobby stores at all and anything and everything has to be sourced from overseas, so aftermarket items aren't readily available. There are some other inaccuracies too, but I decided to ignore them all except for the instrument panel, which I scratchbuilt.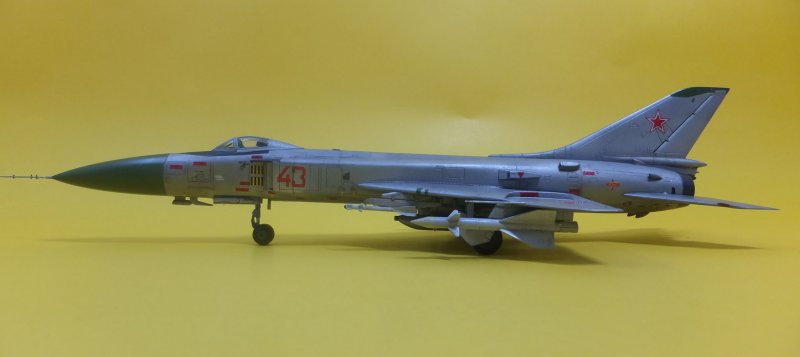 I finished it in one of the box schemes in NMF. The model was built OOB, over a fortnight or so, as part of an ongoing Warsaw Pact/ Cold War GB in the Indian Scale Modellers group. Paints are Vallejo, Italeri and Revell.
Bob TheDoc