Mini Art Flettner Kolibrie Fl 282 V 21 1:35 + Edu Zoom Set
When I saw the Kolibrie as a 3D project at Mini Art, it was my greatest desire to have the model and to build it.

The parts are made very filigree, engine and transmission are almost a kit for themselves. Mini Art has very fine dowel pins and splices, the construction forgives no mistake and must be 100% accurate, otherwise nothing fits together.

Criticism would be, the helicopter needs weight in the nose, only where?

The tanks offer space, just behind the pilot's seat and the firewall to the engine, but only if the engine compartment remains closed. Mini Art could provide the seat itself as a metal part, that would be enough.
2. Criticism, in the Ätzteilen are belts, but a US version only found in the V23 use, and also installed very late as a replacement in the test series Eduard offers replacement. 2 versions are to get, the zoom set with equipment board displays and straps, the larger version then still with parts for engine and the flaps for the engine compartment

It is also quite easy with the colors, since the Flettner Fl 282 was used as a prototype, and there are hardly any alternatives for the interior colors, since everything covers the fabric, and therefore the exterior = interior color

Otherwise, I can only compliment the model,

I needed 2 days for the construction, Saturday finished in the post office and Sunday 23.00 clock, and thus probably a clear plus for Mini Art, because without difficulty to glue.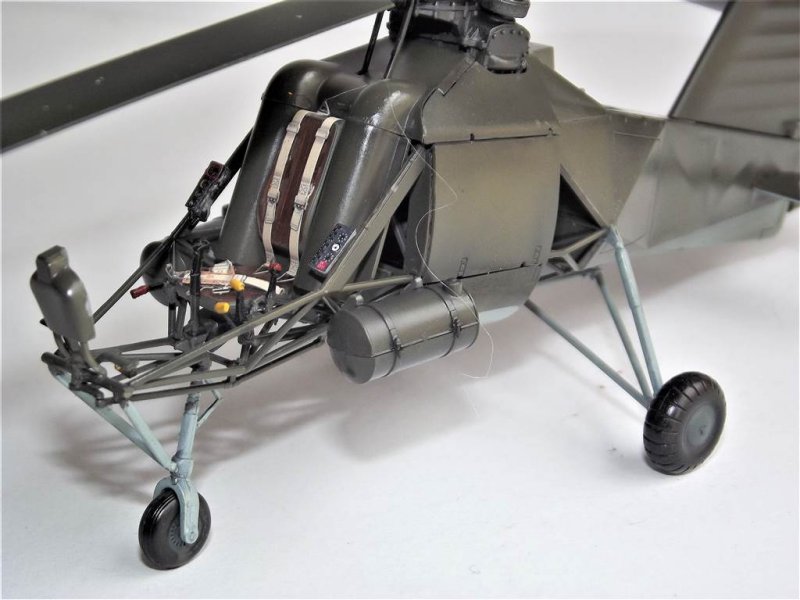 Colors are an RLM 71 from Gunze Hobby Color, a glossy black from Gunze Mr. Color for Engine and Mechanics and a RLM 65 from Moell Master for the bottom. The decals come from Cartograph, unfortunately a slight offset at the beam crosses.

I hope the model can convince and best regards from Germany
Jens Gerber