The Shorts Tucano T.1 serves in the Royal Air Force (RAF) as a basic two seat turbo prop trainer. The plane combines high performance with a considerable economy of operation.

Developed from the Embraer EMB-312 Tucano, which is also in worldwide service, the RAF version has a more powerful engine in a redesigned nose, a four bladed propeller, a new cockpit layout and strengthened cockpit canopy. The ejection seats are Martin Baker MB 8LC. The Tucano T.1 is powered by a Garrett TPE331-12B turboprop engine developing 1100 shp and has a maximum speed of 514kph (312 mph).

The Tucano entered service in mid-1988. 130 machines were delivered to replace the Jet Provost with the Flying Training Schools.

A typical Airfix box, with box art depicting the attractive all black scheme adopted by the RAF for their trainer aircraft. Two light grey plastic sprues, one clear, an excellent decal sheet and a comprehensive instruction sheet. All parts are clean and flash free, with fine, nicely defined engraved panel lines.

Since I knew the rough and undefined cockpit and the little too small propeller blades from the old kit, I chose here the resin replacement of the company CMK. I found much better and nice detailed.

The fuselage only needed minor amounts of filler, also the wings - one piece lower wing - attached to the fuselage fairly well and only little rework. The exhausts were cleaned up and hollowed out with a hobby drill. The canopy was brush painted with Future inside and out to improve clarity.

Fortunately Airfix included some decals for the complicated black / white / yellow propeller scheme. Only the spinner had to be painted by hand.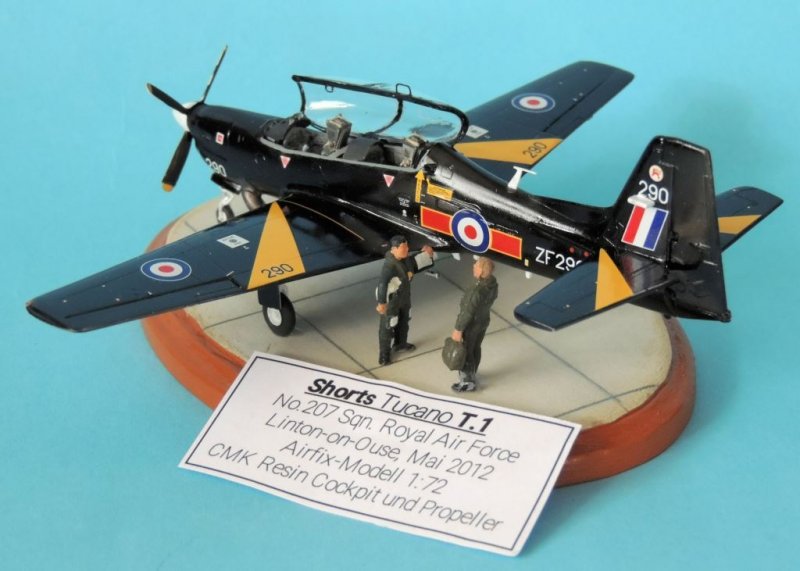 I sprayed the undercarriage legs and wheel well door interiors white. After masking I sprayed the entire body gloss black with Revell Aqua Color.

Decals are much, much better as in the first Tucano kits I bought some years ago. Two planes from No.72 (Reserve) Squadron, RAF Base Linton-on-Ouse, North Yorkshire, England, July 2011 (all black finish with yellow stripes) an one plane from No.7 Flying Training School, RAF Base Church Fenton, England, 1990 (red and white finish with blue stripes and a nice little Tucano on the rudder). Many maintenance instructions complete the very good impression.

After all the decals were attached I covered the model with AK Interactive Gloss AK777. I repeated this twice. Since these aircraft are certainly very well maintained, I have applied only a very weak weathering.

Airfix is the only mainstream manufacturer to offer the Embraer / Shorts Tucano in 1:72. (Apart from some resin Kits from Brazil). I would recommend this kit to all who want a small Tucano in their modelling cabinet!

A new Brazilian EMB 312 Tucano in 1:48 by HobbyBoss with wonderful decals from Caracal Models (a complete colorful Tucano!!) is already waiting in my shelf…

Enjoy the photos.
Gerd Wilcken