Ironworking the Hasegawa F-14, Hasegawa P23 F-14A+ TARPS, 1:48
Summary:
If You want a fair recommendation from a friend about the Hasegawa F-14, then trash it or bash it. But if on the other hand no one can keep you away from building this kit, then follow the proposals below and you will turn it into a model that will stand in a line with Tamiya and AMK. You will be surprised how well it will come out.

Back in the late eighties when Hasegawa released the F-14 in quarter scale, it was a mile stone in plastic scale modeling, but also in price. I had my first job back then and the kit was as expensive as my earnings of one day, I just could not afford it. When I saw others taking the kit away from shops, I wasn't jealous at all, it was like leaving a new Ferrari Testarossa the garage; it was plastic fantastic new technology for me. Over the decades you did not hear good things about the kit and although everybody had it on the shelf not many did build it. I had the chance to pick up some kits over the years, but I was afraid about it what I've heard. Rumors that Tamiya will release one came up for long and now, where the dice have fallen with Tamiya and AMK and life is coming to an end, I wanted to fight through this project for an aircraft and kit I loved for so long.

How to build the Hasegawa F-14:
Day 1: We start the project with the extremities. Assemble the tailerons. Oh, they are one piece, now You're almost done with the kit. On to the vertical fins, glue and add stiffeners now when needed. Next the flaps, glue and stabilize under a heavy book for alignment.

Day 2: Tape wings and fuselage and scribe scratches of the wing glove on both sides of the wing. Disassemble and glue each 5 rails of 0,04"x0,06"x0,5" (1mm*1,5mm*12mm) under the upper wing trailing edge as later rails for the flaps (Picture 03). Fill-sand-clean flaps.

Day 3: Glue wing halves. Cut cove doors into pieces and close wing box trailing (Picture 04).

Day 4: Fill-sand-clean wing halves. Paint hidden areas if desired. File each five 0,04" slots into flaps and attach flaps 35° down (Picture 05).

Day 5: Fill-sand-clean flap rails. Paint hidden areas of wing and speed brakes red, even the interior of the tail, You won't reach it later.

Day 6: Cover tape red areas. On to the upper fuselage. Assemble 3 part tail. Rescribe wing glove vanes when applicable. Glue starboard vertical fin to fuselage. Take port vertical fin and correct NACA intake, remove tail light when needed (up to Block 75-I)

Day 7: Fill-sand-clean tail. Glue port vertical fin to fuselage. Paint wing glove cushions flat black for pre-shading and exhaust grids and nozzles gloss black for bare metal.

Day 8: Fill-sand-clean vertical fin roots. Glue wing glove cushions to fuselage, but not to the glove itself.

Day 9: Glue tail section to the fuselage.

Day 10: On to the lower fuselage. Apply drill holes where applicable, drill holes for glove pylon are wrong, check carefully. Fill all sink holes in all intake parts, especially the upper exit ramp. Glue intake leading edges to the fuselage. Glue intake tubes.

Day 11: Fill-sand-clean intake leading edges and intake parts. Glue belly stabilator fins to the fuselage. Add of 0,04"x0,06"x0,2" (1mm*1,5mm*5mm) strip styrene (same as for the flap rails) to the end of the vertical stabs as tie hooks. Assemble intake ramp, but take care, Hasegawa has them in the down position for supersonic flight, You rather want to have them up, don't glue to fuselage part, if forward ramp full up do not glue yet (Picture 06). So glue rear intake ramp only, not the forward one.

Day 12: Fill-sand-clean belly stabs. Paint intake tubes, intake ramp parts, compressor face. Take care now when applying a later toned down camouflage.

Day 13: Now the most important with the Hasegawa kit, the intake boats. When removing from the sprues, do not remove the sprue crossing at the splitter intake area, it will help You align things! Glue one intake boat at the rear end and only here to the fuselage. Do not drill holes for the tanks, they suck!

Day 14: Glue the other intake boat at the rear end and only here to the fuselage.

Day 15: Now put sanding paper between fuselage and the intake boats and clean/align the fuselage bottom seams between it (Picture 07). After that there should be good fit, glue the rest of the intake boats to the lower fuselage, take care that the bottom fuselage is straight.

Day 16: Fill-sand-clean intake boats. Glue intake tubes into boats, probably using 2-components glue since the parts are very thin at this area.

Day 17: Remove sprue crossing at the splitter intake. Fill-sand-clean intake. A good filler at such a stage is white window seal, when drying it can be smoothened with water, but then do dry sanding.

Day 18: Paint intake again when applicable, also paint the intake boat from the outside with camouflage. Paint gear bay parts.

Day 19: Assemble gear bays starting with the boat intake side wall part (Picture 08). Attach all four AIM-54 pylons, yes, do it now, it will help You straighten the lower fuselage (Picture 09).

Day 20: Add intake ramps to lower fuselage assembly. Add compressor faces.

Day 21: Anything forgotten? Then join upper and lower fuselage, but glue at the sides only, do not glue tail or wing pivots. Also check the glove vanes.

Day 22: Glue the fuselage end engine covers.

Day 23: Fill-sand-clean the seams. On to the nose. Do not worry, You are not crazy, indeed half of the cockpit parts do not fit at all. The Aires cockpit would be less work for You than the kit cockpit. In case You choose the kit cockpit, glue it first and paint then. Start gluing with the front side consoles, they need to sit down in the tub part. Drill holes in cockpit halves where applicable.

Day 24: Scratch build canopy carrier for open display (23°?) (Picture 10).

Day 25: Fill-sand-clean gun vent parts and other stuff that did not fit. Rescribe nose and drill hole for yaw thread.

Day 26: Wedding of forward and rear fuselage. Do not glue the AIM-54 rails yet.

Day 27: Glue AIM-54 pylons to forward fuselage just that the Sparrow bays are closed. Fill-sand-clean seams.

Day 28: Glue wings to the fuselage. Add glue also to the pivots and upper gloves and squeeze all to minimize the gaps of the glove. Do not glue the lower glove to the wings, otherwise the wing pylons will point downward. This is because of a disadvantage of this kit, the gloves are molded for the parking position of 75°.

Day 29: Canopy, before You start sanding away the upper seam, add the pyro lines (fragilisation) from below, using the seam as alignment. Same with rearview mirrors. Tint front glass (between cut out stuff, decal, tinted foil etc. painting is still the best method) from below. Dip into Future/Bondex and let dry.

Day 30: Cover mask desired places. Add small parts and start painting. Now You're almost done within a month.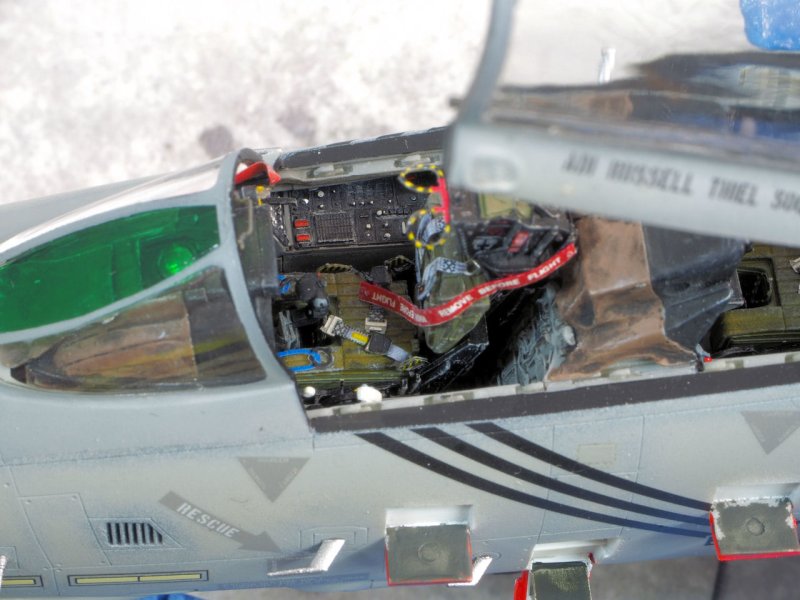 Photo 02
Finished Kit:
The kit was finished as a F-14A (PLUS) TARPS 161416 from VF-143, another CAG bird AG100 Carrier Airwing 7. Although MIL-I-18464 requires the first VF squadron to carry insignia red markings, the Griffins refuse to do so and even the engine covers are in blue, these being done with white glue and single layers of tissue paper (Picture 11). The TARPS and AN/ALQ-167 are from the Tamiya kit (Picture 12) of course as are the superb AIM-7F. AIM-9M Eduard (Picture 13). Cockpit from Aires is a must (Picture 14), however seats Eduard (Picture 02).

Thank You!
Andreas Gordes, ARC member 'Goggo'
Click on images below to see larger images