Hello, fellow modelers! This time I'd like to share with you my Bell AH-1G Cobra in 1/72 scale, finished in Vietnam War US Marines camouflage and markings.

This one is neither my latest build nor my best one. In fact, I bought this kit in the late 70's, and it was one of the first models I finished using an airbrush, in the late 90's. I decided this year to upgrade the finish a little just to have a model ready for an ARC gallery article, after more than three and a half years of absence.

As many Matchbox kits of that era, it's a rather simple kit, introducing engraved (somewhat heavy by today's standards) panel lines as a novelty. The fit wasn't very good, but a decent model could be done from this kit. The main problem I had in this build was the kit's decals. Some decals cracked after application. The "Marines" words and the tail serial numbers, both in white, transformed in a way I've never seen in other decals: a second image, shifted horizontally from the main one, appeared on these decals after they were applied (see photo 7.) As I hadn't replacements, I left these decals with their interesting second image. The second trouble that I had was that I used Humbrol's Matt Cote varnish for the final clear coat. This kind of varnish still remains tacky after more than 20 years from its application!

Some of you may ask why I haven't submitted to ARC any gallery article from February 2015 until now. You may find the answer in the appendix just below.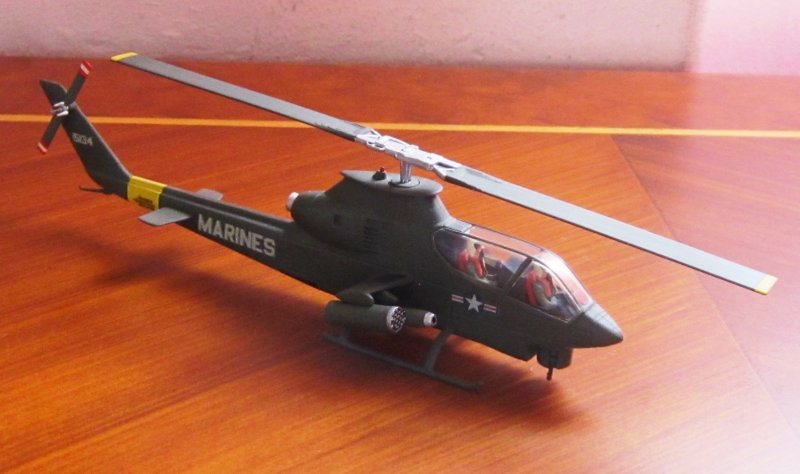 APPENDIX: Reflections of my life.
Reflections of my life was the title of a 1969 pop song by the Scottish group The Marmalade that was a world hit when I was nine years old and I didn't now anything about building models yet, although I was familiar with scale models because I collected Matchbox diecast cars. A sentence from that song tells that "the world is a bad place, a bad place, a terrible place to live." I'd like to modify this sentence a little by telling that "my country is a bad place, a bad place, a terrible place to live." From 1999 until now my country Venezuela has been ruled by a socialist regime. The regime, through its goal of destroying the "capitalist consumer's society," has turned almost every citizen to a poor, and has destroyed the society itself, leading our country to an economic and moral ruin.
Before 1999 every citizen here could spent yearly up to 2000 US dollars buying things by Internet. The socialist regime later reduced the amount to 400 US dollars, then to just 300, and in 2014 they finally eliminated that possibility. When I knew that I suffered a terrible shock, because by that time I had a long "shopping list" that included plastic models and also some essential building and finishing materials, such as cement, paint and putty. The shock was reinforced when I went to my local hobby shop and I saw the price of the tube cement for plastic models and the price of the hobby paint, and I also found that there were almost no colors available for shopping. This shock was one of the reasons why I stopped building and finishing kits for more than three years.
The second reason is that I am a full professor of Electromagnetics and Electric Circuits at Universidad Simón Bolívar, the most important university in my country in the Electronics and Telecommunication Engineering areas, and among the top universities of South America. By September 2014 I had spent 25 years as professor there, so I was in position of asking my retirement. Retired professors in our country receive their full salary until death, so I asked my retirement, with the original thought of spending more time building models. However, as the professors' salaries in our public universities is now set arbitrarily by the government, I soon found that even earning the top level salary it wasn't enough to fulfill my family's needs, so I had to continue teaching in order to get more money. In fact, after retirement I've been teaching more courses (and with more students per course) than I did before retirement. Therefore, now I have less time for building models.
The third reason, and a very important one, is that I quickly ran out of plastic cement and putty and I couldn't buy even just a tube, so I haven't been able to finish any of the 20+ models that I have in different stages of the building and finishing process.
In all those socialist years the acquisitive power of Venezuelan citizens has been constantly reduced. Moreover, at least in the last two years, Venezuela has been the country with the highest inflation rate of the world. Even though the salaries are adjusted frequently, the situation goes from bad to the worst. By July of 2017, when I decided to resume building models, I purchased a tube of cement by BsF. 50,000. Just three weeks later I purchased the same by BsF. 75,000, with a 50 % increase in the price. Converted to the old Bolívar, it was Bs. 75 million. To give a better idea of what it means, with Bs. 75.9 million I acquired in the year 2001 (through a credit) the 105 sq. meter apartment in which me and my family currently live, and also a new four-door Pontiac Sunfire. With BsF. 75,000 by February 10 this year I just could buy 1.5 kg. of potatoes, by April 25 a kg of potatoes is worth BsF 350,000,00, seven times more than just two and a half months before, and at the beginning of October is worth BsF. 3,500,000.00, ten times the price it had just five months before.
The government recently dropped five zeroes from the currency (actually a masquerade to hide an enormous increase in the price of gasoline and the public services.) Although our currency's name was changed since 2008 to "Bolívar Fuerte" (strong Bolívar,) and was changed again this year to "Bolívar Soberano" (sovereign Bolivar), ironically the Bolívar (and in fact the whole country) never was as weak as it is nowadays.
Thanks for your patience and your time for reading these lines.
Orlando Sucre Rosales