P-51B Mustang 357th Fighter Group (8th AF)
The famous P-51 was the standard fighter for a number of 8th Air Force fighter groups during WWII, from the beginning of 1944 onward, replacing the P-47 "Jug," which didn't have the range to escort bombers to their targets deep inside Germany. One group that earned a host of decorations was the 357th FG, which became the third highest scoring group in the 8th (after the 4th and 56th FG). The 357th Mustangs were characterized by a red and yellow checkerboard band around the engine cowl: alternating red and yellow bands were also commonly found on the spinners.

Besides the dedicated red and yellow colors, quite a few 357th aircraft had a two-tone appearance: olive drab (camouflage) on the top sides of the fuselage and wings; bare metal on the undersides. I made this kit into one of the two-toned jobs. The white stripes on the upper wing were an attempt by 8th AF brass to aid friendly aircraft identification in a dogfight, thereby reducing trigger-happy bomber gunners and/or other fighter pilots from shooting down our own guys. The stripes were black on the wing under side, as it stood out in contrast against the bare metal belly of the plane.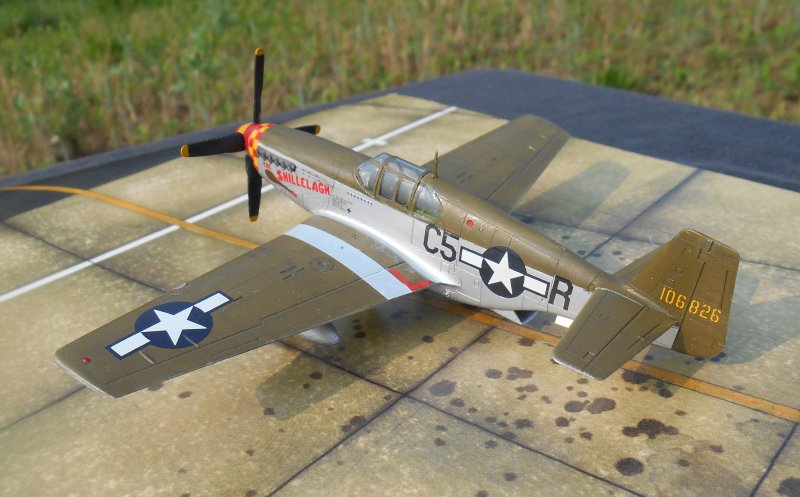 I built the kit basically out of box, but made seat and harness straps from masking tape cut to scale size. Weathering was minimal, with mainly engine exhaust stains and gun powder residue on the wings, using black pastel and a stiff bristle paint brush. The antenna wire was human hair.
Carl Jarosz