F-16C Block 25, Vermont ANG
This is an unusually well-worn bird of the 134th FS, 158th FW, Vermont ANG, based at Burlington Vermont (my birthplace). It was photographed in action over the Middle East war zone in 2008. It has since been retired to AMARG in Tucson, AZ (ironically, my current home).

Unusual aspects of this bird are:
Very large repainted area of the dark gray including at least one of the stabilizers

Replacement canopy with non-matching camouflage pattern

Light gray replacement panel at trailing edge of starboard/right wing

Left wing tank is 36375 (lighter) front half, 36270 (darker) rear half, with darker gray touchup around the filling points of the lighter half
I also faced a challenge in that there is no truly accurate early (P&W powered) Block 25 F-16C. So I took the following route:
Base kit: Revell 1/72 F-16A

Mods: Hasegawa F-16C tail

Hasegawa AMRAAM wingtip rails

AIRES afterburner/exhaust (ALCLAD paintwork)

Metal pitot

Hasegawa F-16-style TER

Attack Squadron GBU-32

Hasegawa GBU-12's & AN-AAQ-28

Tamiya AIM-120's

Scratchbuilt "beer can" antennae on wings

Wolfpak decals (72-041)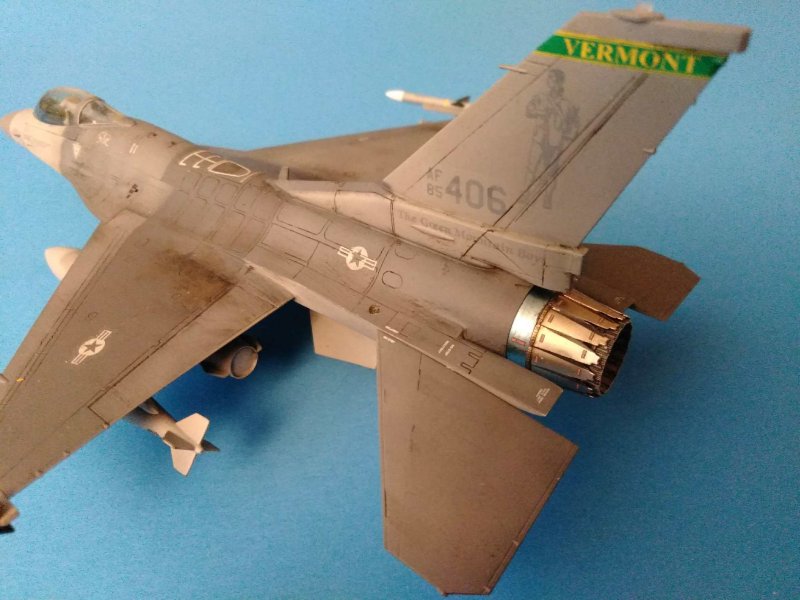 This is a vital member of my Vermont ANG complete history build. Now if only someone would produce 1/72 decals of Vermont's big-mouthed GE-powered Vipers, another vital gap could be filled! (Please! Really!)
"Andrew D. the Jolly Rogers guy"