The PB4Y-2 Privateer was developed from the B-24 Liberator bomber, with a tall single stabilizer and stretched fuselage ahead of the wing. It served the U.S. Navy as a patrol bomber from late1944 until being retired in 1954. The PB4Y-2M was specially developed as a weather reconnaissance aircraft.

VP-23 acquired nine of them and in 1949-1952 was based at NAS Miami-Master Field as "Hurricane Hunters". During the active 1949 hurricane season, VP-23 flew 33 missions into the hurricane eyes, a record. The Privateers remained armed as they also flew maritime patrol flights when not hunting hurricanes. I remember seeing a VP-23 Privateer in a dark hangar as a small boy and even though I loved airplanes, it was somewhat scary, reminding me of a huge dark winged dragon with all its warts, bumps, tall tail and intimidating bow turret!

The movie, "Slattery's Hurricane" was filmed at NAS Miami-Master Field in 1949 starring Richard Widmark, Veronica Lake and Linda Darnell. There are several good shots of the base and Privateers, a good flick! My Dad spotted the three of them at a pizza restaurant near the base and they autographed his pizza box that my Mom saved for years! Ironically, Hurricane King struck Miami in October 1950 and VP-23's Privateers were not evacuated. Although tied down, during the storm's 130 mph winds, they all lost their rudders, but were quickly repaired.

Click on images below to see larger images
NAS Miami-Masters Field now serves as the N. Campus of Miami-Dade College, but the VP-23 hanger still serves as a gymnasium. In the years before weather satellites and the Weather Channel, VP-23 and their Privateers kept Florida and the Caribbean safe with early warning of hurricanes.

VP-23's nine PB4Y-2Ms were armed with 10- .50 cal. guns in 5 turrets (reduced from 6). It could carry 12,800 lb. of bombs, mines or torpedoes. Powered with 4- P&W 1830-30 radial engines with 1,350 HP each, it had a top speed of 300 mph, but usually cruised at 175 mph with a range of 2,800 miles, with its nine-man crew.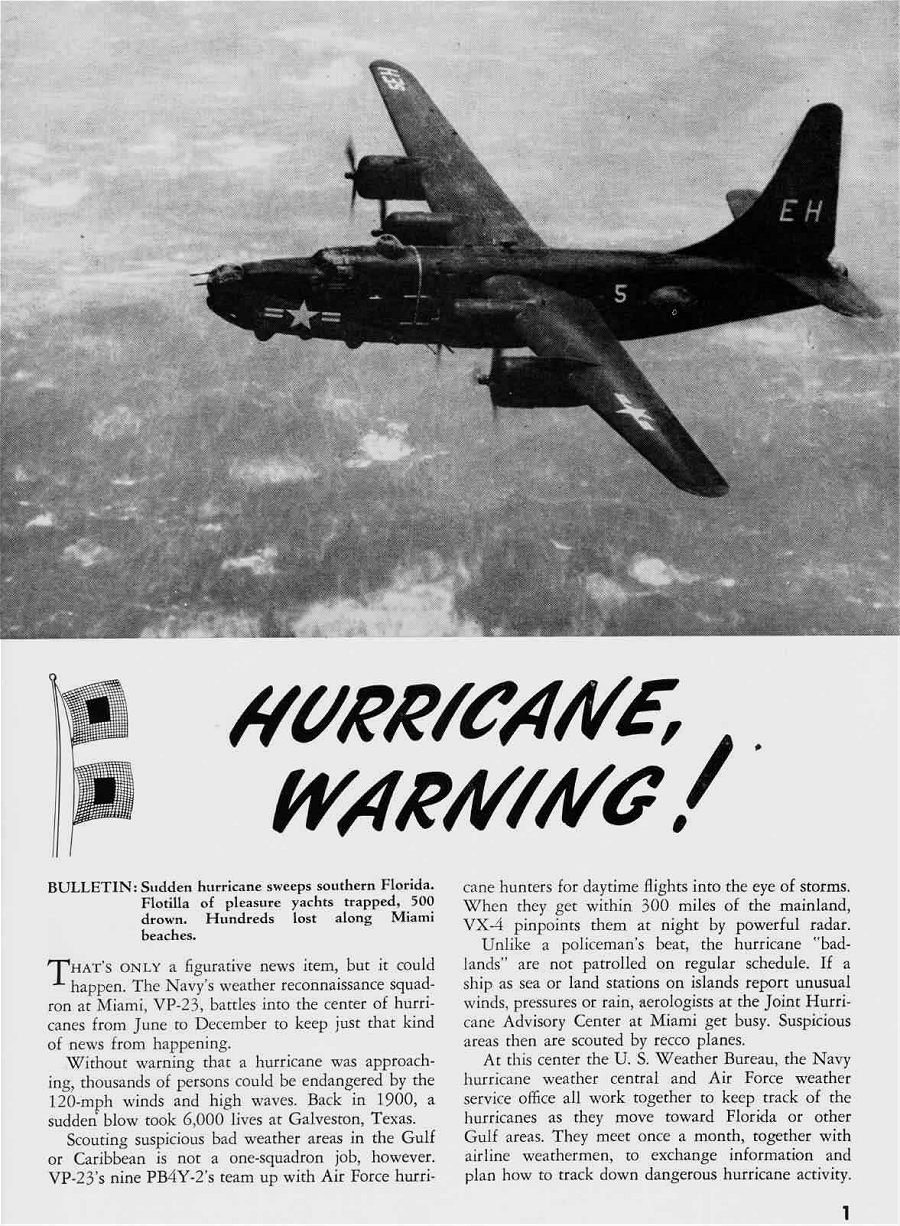 The Model
The 1:72 Matchbox kit was released in 1980 and re-released by Revell in 2009. It is accurate in shape but is a basic kit with limited detail. I built it out-of-box and deleted the rear dorsal turret as per VP-23's PB4Y-2Ms using the supplied kit plug. It was painted with Model Master F.S. 15042, Gloss Sea Blue and kit decals were supplemented with the "EH" modex and #5 from the scrap box. The finish is glossy, but the Privateers eventually faded to an almost flat black from the S. Florida sun by the time they were retired. The gun barrels were drilled out and 2- nylon thread antenna wires were added. The radar and ECM bumps were painted semi-gloss black. The model is a tribute to NAS Miami-Master Field, VP-23 crews, personnel and their Privateers.
H. Davis Gandees