The F4U-1 Corsair was first flown in 1940 and was the first single engine U.S. fighter to exceed 400 mph in level flight, but it did not carrier qualify until April 1944, however until then served with land-based Navy and Marine squadrons. The F4U-4 became available just as WWII was ending and had superior performance to previous Corsairs. Its P&W R-2800-18W engine of 2,100 HP (2,450 w/ water injection) gave it a speed of 440 mph with a climb rate of 4,400 fpm. It was armed with 6- .50 machine guns (F4U-4B mounted 4-20mm cannons) and could carry 4,000 lbs of bombs and 8- 5 inch rockets.

The F4U-4 was an excellent fighter-bomber and many were retrieved from reserve units and storage boneyards in 1950 and reconditioned to serve during the Korean War. After the Korean War, Corsairs continued to be flown by "Weekend Warrior" reserve units keeping the pilots proficient. The last reserve Corsair was retired in1957.

The Model
The model is the excellent 1:32 Trumpeter F4U-4, built straight out of the box except for the addition of the Eduard P.E. seat belt/harness. The only major kit flaw was the absence of the boarding step that I cut into the starboard flap. The gun barrels and exhaust stacks were drilled out and a nylon thread antenna wire was added. The model was painted with Model Master F.S. 15042 Gloss Sea Blue with a Testors Orange reserve band. The kit decals were supplemented with the "H" modex, number "7", and "Miami" from the scrap box. Weathering was with aluminum and yellow chromate paint and a silver prismatic pencil.

The model is a tribute to my best friend, Terry Williams who loves the Corsair. We both have fond memories of growing up just blocks away from NAS Miami-Master Field.e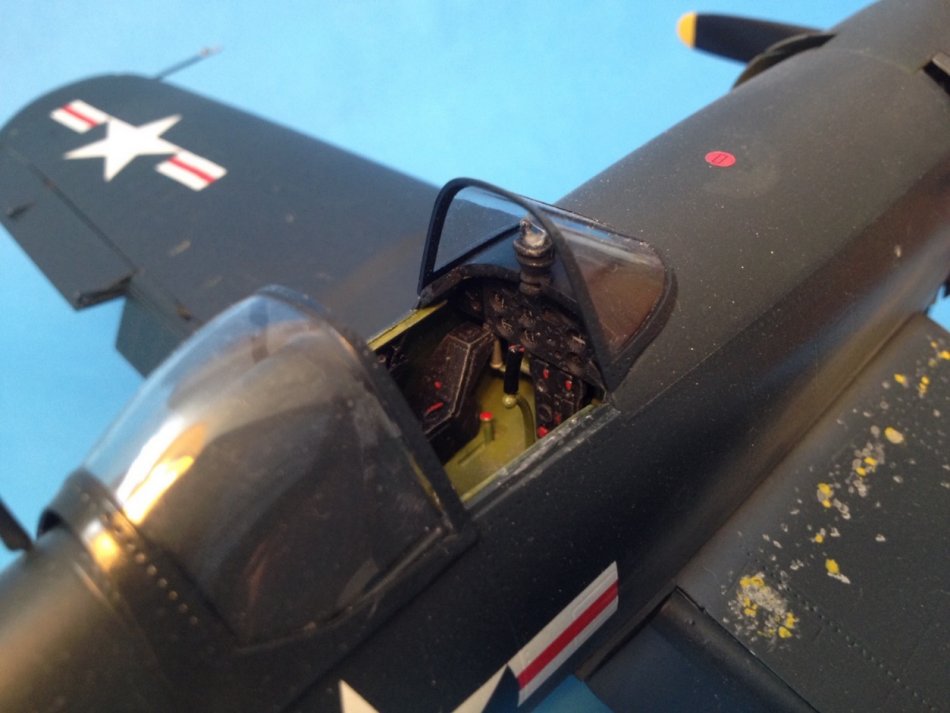 The article subject, Navy Reserve F4U-4 Corsair, BuNo 96764 of VF-81E stationed at NAS Miami-Master Field in 1949. Yes, the model is much cleaner than this well-used Corsair.
H. Davis Gandees