This model is another "Blast from the Past," first released by Revell in 1958. My copy was one of the original release issue; it languished on my shelf for decade after decade, until now. I at first agonized over submitting this to ARC, as this model wasn't an aircraft per se, but review of Gallery models included a goodly number of missiles, which would apply to this (Martin Aircraft Co.) Lacrosse. The missile had to be guided to its target by guidance personnel along the flight path, but it wasn't uncommon to somehow lose connection with the missile, in which case it kept flying until its fuel was exhausted (about 15-20 mile range). In such cases, I could hopefully envision a MiG-15 becoming the new, inadvertent target of a runaway Lacrosse, making it one of the first surface-to-air missiles.

The kit came with a basic Lacrosse missile parts and a more involved truck/launcher. I could do little improvement with the missile, as it looked well molded; all I did was add some color to the fins and nose cone. It was the truck/launcher that saw me add two needed enhancements.

First, I modified the standard kit molded walkway grating parts, where the missile crew walked on the rear of the truck to prepare the missile for launch. Molding technology as it was back in the 1950s, Revell made the walkways with raised ribs, of such scale that, if I could miniature myself to 1/40 size, I could almost feel myself trip over every runner on the piece, since it was so tall, i.e. a true obstacle. I felt I couldn't just cut away the molded walkway surfaces for fear of taking off too much plastic. I then purchased a large enough square of PE mesh, otherwise known in the working world as "expanded metal," i.e. the diamond-shaped openings on a plate of steel that allows uninterrupted foot movement, and drainage of fluids (see photo of PE fret remaining from larger square). I cut each piece to size of the individual walkway plank, then super glued the mesh to the raised ribs of the original part (see photo of all walkways with mesh fit to size glued in place).

A second enhancement involved the rear two walkway ramps: These were molded grotesquely out of scale, with much excess plastic, so I sawed and filed the excess plastic from each side of the ramp parts, only leaving a thicker top that mated with pins on the walkway pieces. After removing the excess plastic, I took a microdrill and made openings into the ramp sides, to represent removed metal that allowed for easier handling of the real thing.

The only drawback I encountered with building such a relic from the past was (you guessed it!) the decals. I felt I could salvage them once I applied two layers of liquid film to the decals, otherwise they would have torn in my fingers if I tried to apply them straight from the backing. While the lettering was saved, the yellowed film backing (from 60+ years) could not be overcome, even after trimming as close to lettering as possible.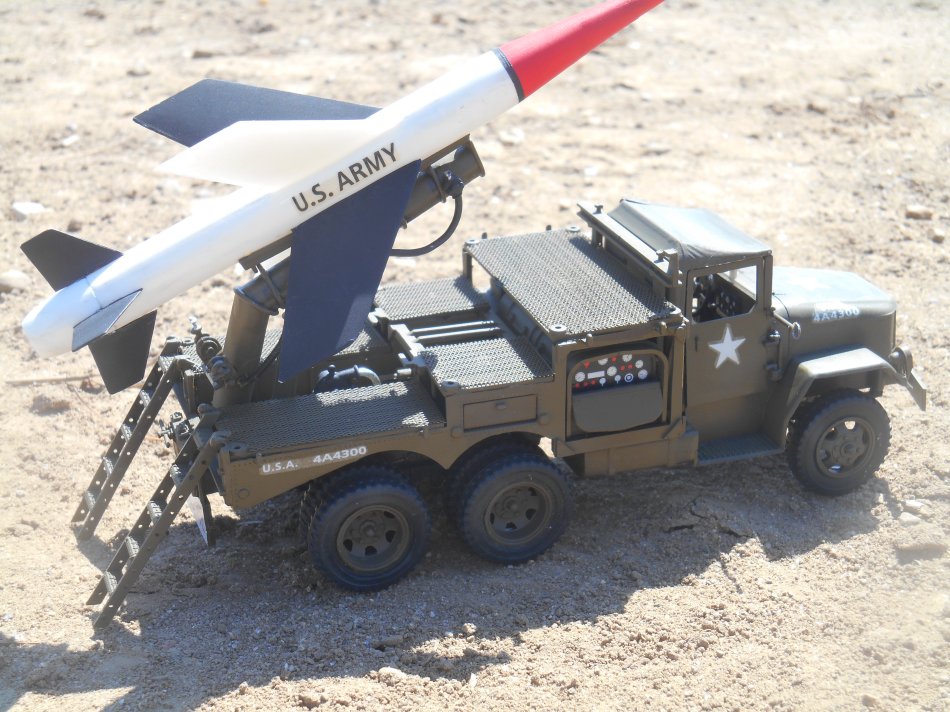 The kit finally came with three soldier figures, in various poses, but I've never been impressed with molded figures of such scale from kits of old, as the humanesque pieces of plastic needed so much work to make them look remotely like a human form, plus I've always felt they distracted the viewer from the main model itself.

Revell must have made a decent replica of this first generation surface-to-surface missile cum carrier, for I've never seen nor read of another model maker issuing a new version of it.
Carl Jarosz