This is a 1/144 Mini Hobby Models F-16XL kit. I would expect the usual similar kind of issues as would other Mini Hobby Model kits that I have built so far but I was taken aback. The main upper and lower halves left a gaping hole on both sides near to where the cockpit was when I did a dry fit. It seemed as though there were some defects with the mould or the plastic injected was less than desired. Rather than giving up and thrash the kit, I decided to go about fixing this serious defect using lots of plastic strip Tamiya putty and lots of glue as a form of hardener for finishing and scribing later on.
The corrective work on this kit wasn't easy. The nose cone had to be re-shaped with putty and sanding down. The oversized canopy had to be replaced with an oven-formed canopy. This was followed by the usual filling and sanding on the upper and lower surfaces and re-scribing done for in-flight mode. I then added the relevant external probes and antenna blades to give it an enhanced look.
I used all the armament that came with the kit viz., the 4 x AIM120, 2 x AIM-9 and 6 x Mk82 bombs although there were 12 pylons provided. Had them painted in training colour codes.
The decals provided was that for the prototype bird but a little skimpy in details. I searched for additional info on the F-16XL. I came across the single seat #75-749 kept at Edwards AFB that was given a fresh coat of Heater-Ferris camo but in a different colour order from previous paint work. This was in 2019. I used self-mix Tamiya/Mr Hobby acrylic colours to get the best shade to match.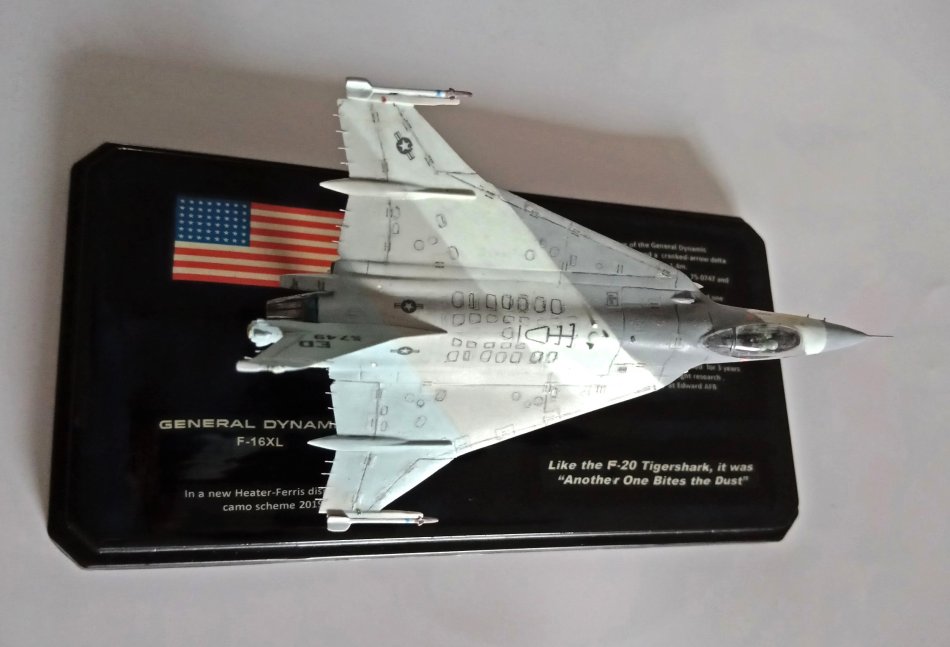 Had the finished model mounted on a display base. Overall I was very pleased with the outcome despite the many hours of filling and sanding.
Enjoy the photos.
S K Loh