I started building scale models in the early fifties. Revell was the premier model company for me in those days, and they released kits faster than I could save my allowance to purchase them (even at a price of 69 cents!). These early kits were released in what was called "box scale:" i.e., they were scaled to fit inside a certain size of kit box. In 1954, Revell issued its 1/175 scale B-52 (Kit no. H-207). These early kits came with a plastic ball on the lower fuselage that would then fit into a clear plastic display stand – a neat feature for kids wanting to display their models. In 1961, Revell modified its original B-52 mold to depict one of the aircraft being used at Edwards AFB for the North American X-15 flight test program (Kit no. H-273). In the fifties, NASA contracted with Boeing to modify two B-52 aircraft to carry the X-15 to an altitude of about 45,000 feet and then launch it. Boeing's modifications included items such as a mounting pylon under the starboard wing, a notch in the starboard wing's trailing edge to accommodate the X-15's vertical stabilizer, and a 1500 gallon liquid oxygen tank in the bomb bay to refill the X-15's tanks as the highly volatile oxidizer boiled away during the flight up to release altitude.

Altantis Models is now releasing a number of kits from the early 50s and 60s - quite a welcome event for those of us who want to relive their youth without dipping into the vintage model kit stash. And it is surprising how good some of these kits can be made to look using modern model-building techniques! This particular Atlantis model can be built to represent either "Balls 3" - serial no. 52-0003 - a B-52A that was modified for the X-15 Program (the other aircraft was "Balls 8", originally an RB-52B with serial number 52-0008).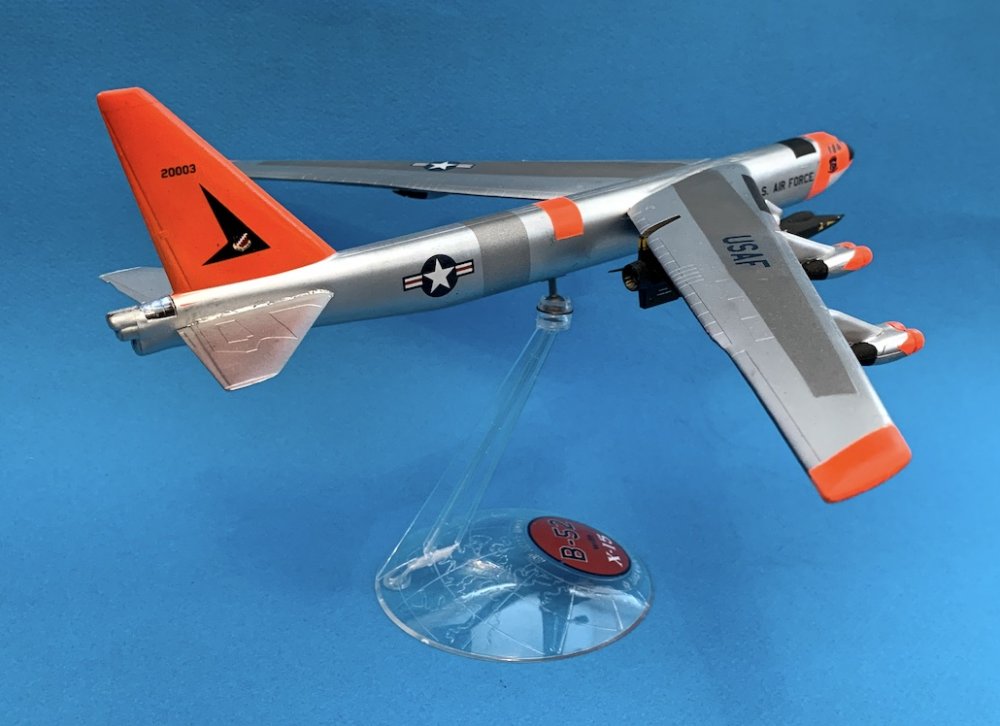 After assembling the rather small number of parts, I filled several gaps with putty and then sanded the seams to smooth them out. I also had to sand off the raised decal lines that were prevalent on some of these early kits. I Painted the model with my usual Floquil Bright Silver and then masked off areas to paint these with the same paint with added flat black to give these a different aluminum tone. I used Model Master DayGlo Orange for the high visibility areas such as the vertical stabilizer, wing tips, and engine nacelles. The X-15 was painted with Model Master flat black and then decaled.
Overall, this is a simple kit that builds into a surprisingly good representation of the real aircraft. If you are looking to relive your past modeling life, or just want a simple change of pace, I highly recommend you look into these Atlantis re-releases!
Blair Stewart