This little diorama was the result of the topic "comic strip" of the "Schwobabaschdler" (plastic modelling group of interest in south/west Germany), see out website here: http://www.schwobabaschdler.de/

I never read much comic papers, but I remembered that in the 1980s and ´90s RC pilots liked to fly around with those discs, having a funny figure as a vertical stabilizer on the circular shaped wing. In the front there was a combustion engine.
Wum (dog) and Wendelin (elephant) were figures from the German cartoonist Loriot. Wum was often used as a vertical stabilizer, so those flying discs often were called "Wum-Scheiben" ("Wum discs").

As RC pilot I used and modified the figure "Mechanic - Darwin Pushing" from American Diorama in 1/18, as I already did here: http://www.arcair.com/Gal16/15501-15600/gal15545-Bo-105-Bruckelt/00.shtm

I also made some new fingers, for the left hand so that it looks as the model just has been launched. The fingers of the right hand had to be brought into the right position to grab the right stick of the self made radio transmitter.


The flying discs I built from scratch. Just the cylinders of the engines were taken from a radial engine I had left.

The discs were made out of 1.5 mm thick polystyrene and have a diameter of 6 cm.
Further details, like servos, pushrods and the antenna were added.

I found a picture of Wum and Wendelin figures, showing their side views. I brought them into the right size and printed them on transparent decal sheet. I attached them on 0.5 mm thick polysterene sheet, so I had the right shape to cut off the vertical stabilizers.

The base was made out of a wooden plate and I glued a rough sandpaper on it. I painted it with different olive and green colors and used a sponge therefore.

The discs and the figure were painted with brush and enamels from Humbrol and Revell.

I sealed the base and the figure with flat, clear varnish from Tamiya. The discs were covered with semi gloss varnish from Mr. Hobby.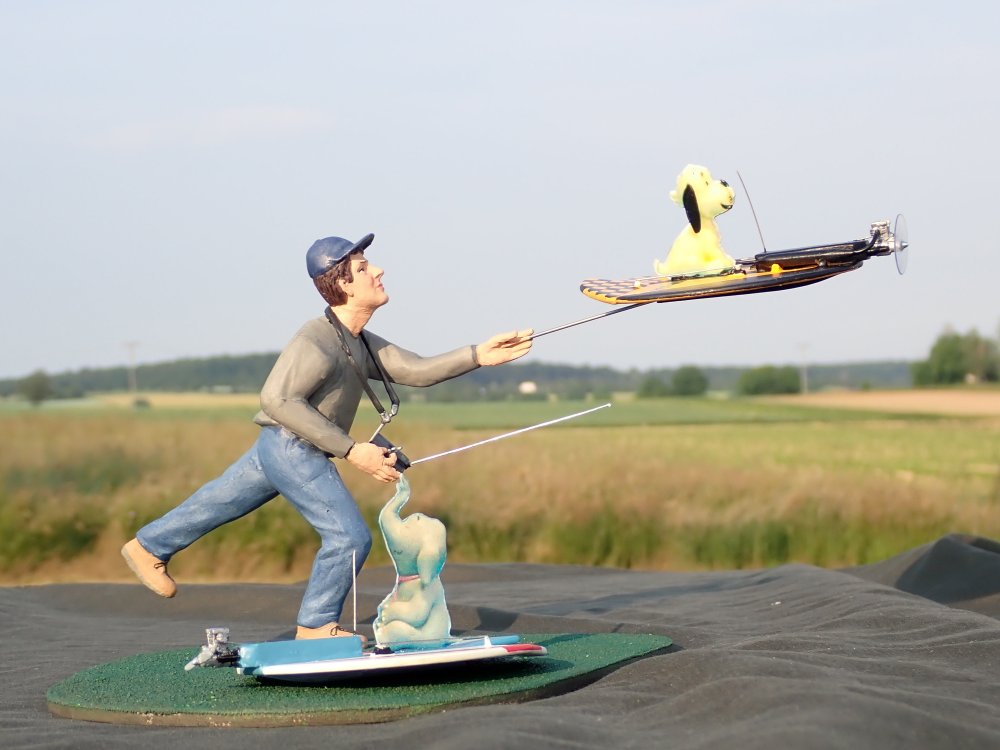 I enjoyed taking part in this funny topic and realizing my idea which is a reminder for aeromodelling of the 1980s / 90s!

Greetings from Germany
Thomas Brückelt