On June 30, 2003 the Hellenic Air Force (Polemiki Aeroporia) Mirage F.1CG were retired after 28 years of continuous operation, and the function of 342 All Weather Squadron "SPARTA" was suspended .

For this occasion a special painted /anniversary aircraft made its appearance the ceremony at 114CW Tanagra AF Base . The words in greek "ΜΟΛΩΝ ΛΑΒΕ" (Molon Labe! (mo-lone lah-veh)) mean: "COME AND GET THEM" have been painted on the lower surface of the wings.
Two little words. With these two words, two concepts were verbalized that have lived for nearly two and a half Millennia. They signify and characterize both the heart of the Warrior, and the indomitable spirit of mankind. From the ancient Greek, they are the reply of the Spartan General-King Leonidas to Xerxes, the Persian Emperor who came with 600,000 of the fiercest fighting troops in the world to conquer and invade little Greece, then the center and birthplace of civilization as we know it. When Xerxes offered to spare the lives of Leonidas, his 300 personal bodyguards and a handful of Thebans and others who volunteered to defend their country, if they would lay down their arms, Leonidas shouted these two words back..

I tried to built this aircraft in 1/48 scale using the old Italeri (ESCI reboxing) kit and the Icarus decal sheet, but the problem that I faced, was that the decals are only for details (Greek flag, squadron emblem and letters ) so I have to mask everything using as a guide photos and Icarus decals instructions.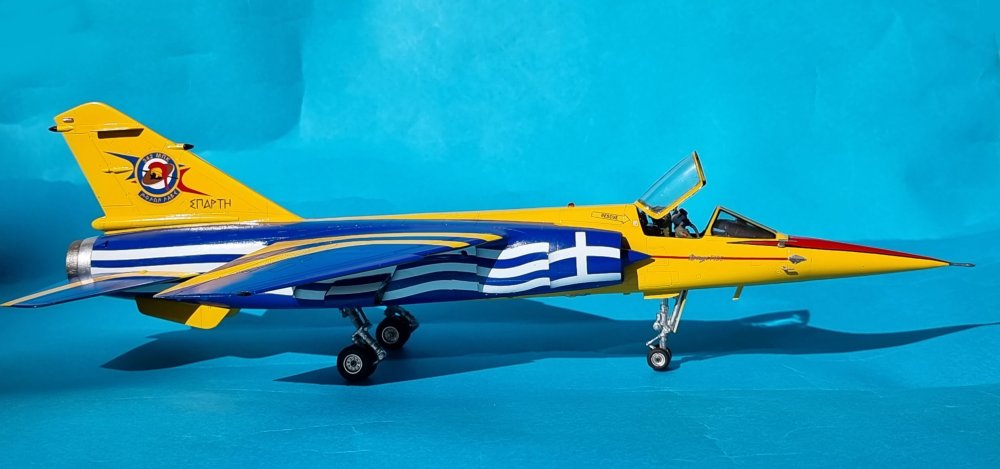 I didn't use extra parts I built this kit straight from the box ,I used only a resin MB Mk-7 ejection seat and a pilot. Many hours of airbrushing with Gunze colors give this result.
I hope you like this colorful kit.
George Athanasiadis "trelas3"