Building Hasegawa's kit of F-16 has been done so many times by so many modelers. For sure, on the beginning, the question is why the choice was like this. Well, to make model like this, with so much of scratch building involved, you must love this plane. So, yes, F-16 is one of my favorites. On the other hand, somehow, I still prefer to build Hasegawa kits for all F's. I always try to give as much as possible of personal mark to any subject. Scratch built details of electronic bays will do it quite as much, as I wanted.
Having a lot of gray/gray models on my shelf, I was searching for something different and I believe this really looks good and attractive. This Navy F-16B is one of originally built for Pakistan. After withdrawal of the F-16N, the Navy managed to find this as solution for high performance aggressor aircraft. Fourteen airframes, ordered by Pakistan in the early nineties, but never delivered, due to a weapon embargo, were taken out of storage and delivered to the Navy. Those aircraft were stored at AMARC straight from the production line. They have a very low airframe life, making them ideal for the demanding aggressor task. It's about the last block 15s ever built. This particular plane is BuNo920458 and is in active service, as the part of USNAVY NSAWC, since December 2002.
The selected painting option is really attractive but I have to admit - it was ultimately time consuming job and rather tedious process. Paints used are Gunze, Testors and Vallejo, in respect to "FS" requirements. A lot of delicate masking is required to fulfill this task but eventually - I am so happy with non-grayish and, I would say - eye catching appearance. For the weathering you have to choose what period of plane's usage time you want to show. From rather new to quite exhausted paint. Photos can be found on Internet, to cover whole time line of weathering effects. Somehow, whatever you do in weathering, will catch some period of life time, for this subject. "Two Bobs" decal set No.72-069 "F-16A/B NSAWC Vipers" was used in this building. It is of high quality, perfectly printed, in register, and responding excellent on setting solutions used during application.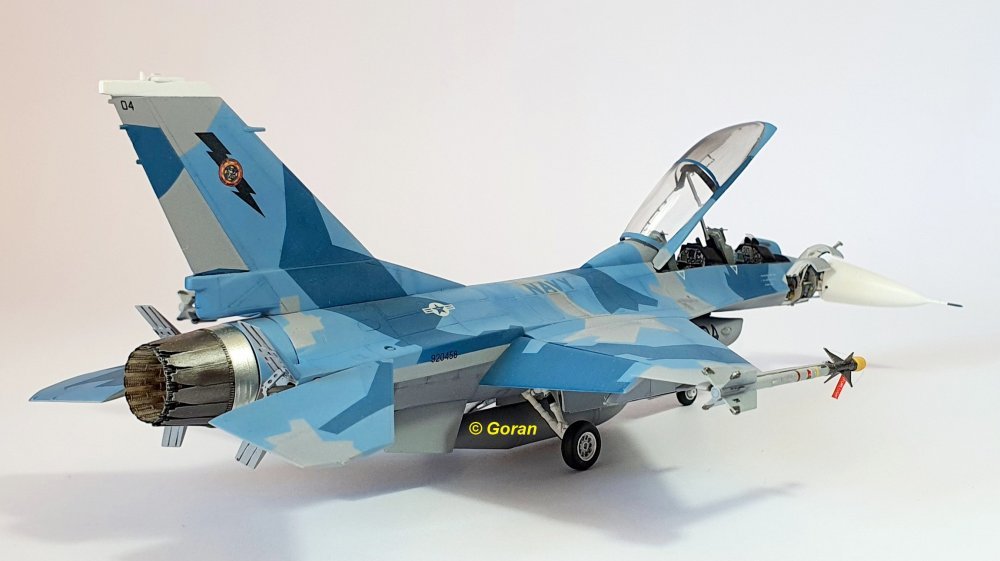 What can I conclude at the end? ... I did get what I wanted. The model, quite unique, seats on the shelf with proud. Painting process was demanding by its self but wholeheartedly recommended choice. For the detailing, as I said, something of personal touch ups added apart from standard commercial accessories options. Hope - you like it.
Goran Djordjevic