This resin and photo etch set from Eduard is part of the Brassin series and is available directly from Eduard Model Accessories. This set includes one MiG-21 late style seat in 1/32 scale. The Lewis gun was invented by U.S. Army colonel Isaac Newton Lewis in 1911. It was produced by Birmingham Small Arms Company Limited (BSA) and Savage Arms during the WWI and was used up to the mid point of WWII. The gun used the .303 British round

The Lewis gun has the distinction of being the first machine gun fired from an aeroplane; on 7 June 1912, Captain Charles Chandler of the US Army fired a prototype Lewis gun from the foot-bar of a Wright Model B Flyer.

Lewis guns were used extensively on British and French aircraft during the First World War, as either an observer's or gunner's weapon or an additional weapon to the more common Vickers.

The Lewis was first mounted on the Vickers F.B.5 "Gunbus", which was probably the world's first purpose-built combat aircraft when it entered service in August 1914, replacing the Vickers machine gun used on earlier experimental versions.

It was also fitted on two early production examples of the Bristol Scout C, French SPAD S.A "pulpit plane", Vickers F.B.5, Airco D.H.2, Royal Aircraft Factory F.E.2 and F.E.8, S.E.5/S.E.5a fighters, Avro 504, French Nieuport 11 and later Nieuport 17 sesquiplanes, British S.E.5a, Sopwith Dolphin to name a few.
This resin set includes:
two complete Lewis guns

six ammunition drums

photo etch gun sights
There are 2 pages of instruction in the usual line drawing format that Eduard is famous for and which are so easy to follow. The instructions also include painting instructions.
You will be required to fold the photoetch in this set, but if you have one of the Hold & Fold photo etch benders from The Small Shop, then this will be an easy process. They have a variety of benders for sharp corners as well as rounded corners and in many different sizes.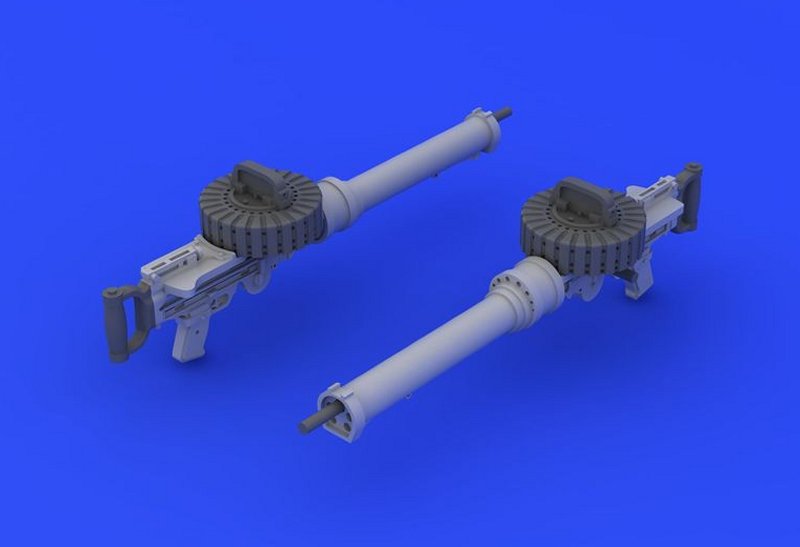 The Lewis gun was used extensively during WW1 on a variety of Allied aircraft and this set will be an excellent addition to any of the big 1/32 kits that are available for WW1 aircraft.
You can buy this detail set and thousands of other items directly from Eduard Model Accessories.
Images in this article are by Eduard Model Accessories.
Steve Bamford